Farris Brothers API Integration with Wooco...
Need to integrate Woocommerce with Farris Brothers?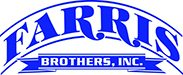 ---
Farris Brothers Integration Details
Integration Method: API
Setup fee: Free
Spark Shipping automates the 3 parts of the orders lifecycle
Spark Shipping can automatically:
Synchronize Products Coming Soon (Be notified when it's released)

Create Farris Brothers products in Woocommerce
Show Farris Brothers products not currently in Woocommerce
Learn more about Full Product Data Upload

Update Inventory

Get inventory quantity updates from Farris Brothers
Update the quantities in Woocommerce

Send Orders

Get new orders from Woocommerce
Send order fulfillment requests to Farris Brothers

Update Tracking

Get tracking updates from Farris Brothers
Send shipment data to Woocommerce
Woocommerce will notify the buyer that their item has shipped
---
---
Spark Shipping integrates with
any

vendor.
Do you not see your vendor listed below?
No problem! If your vendor offers any integration options Spark Shipping can connect your shopping cart to them.
---